Obedience

The Lord has often given me words to sit with for a certain length of time. For a long time, my word was perseverance. Recently, it was more. Now, the Lord has given me the word "obedience." The Lord has been calling me out of my comfort zone and into radical obedience.

Often, the thing that most hinders obedience is fear. Knowing that fear is not of God, I would often struggle with guilt for being nervous about something. This is not the heart of God. Throughout scripture, God never speaks against people who are nervous. However, he has very strong words for the one who lets fear hinder himself/herself from the race they were called to run.

In the Old Testament, the Israelites are commanded to take possession of the land of Canaan. When the spies brought back reports of giants, the people chose to let fear dictate their choices. This lack of action or obedience brought disastrous consequences. Every person twenty or older would not ever have the chance to experience God's full blessings. I am currently nineteen, but the vast majority of my friends are a few years older than me. I can only imagine what it would be like to know that none of your friends would ever see God's promise be fulfilled. However, this is the consequence for letting fear get in the way of obedience.

We see another example of this in the New Testament in the parable of the three servants. They were all given something to invest for their master. The first two servants showed obedience - they did what they were told and it yielded results. One more than the other, but both were obedient to their orders. The third servant was too afraid of losing what little he had to take a risk and be obedient. This passage always reminds me that God loves a heart that is willing to take a risk and possibly lose everything for the gospel.

This morning, I was reading in Luke and stumbled on this verse, ""Do not be afraid, little flock, for your Father has been pleased to give you the kingdom." We have no need to be ashamed. We are filled with the power of the Holy Spirit. We are warriors for the Most High God, and He desires to expand His kingdom! Carry a kingdom presence. Do not let your fear stop you from being the obedient kingdom warrior you were created to be!

Powered by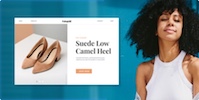 Create your own unique website with customizable templates.